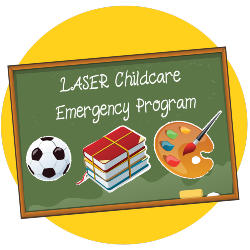 Emergency Program
---
---
Childcare plays an essential role for parents who don't have work flexibility. To support this need, LASER Childcare is reopening as an emergency program at our Bryant and Laurelhurst locations, starting May 6th. Due to space limitations and social distancing guidelines, we only have 20 spots available—eight spots at our Bryant site and twelve spots at our Laurelhurst site. Currently, only our Laurelhurst space is open for care. If we receive more enrollment, we may open the Bryant location.
We still have space for new children and children of non-essential workers. We are open for care from 8 am to 3 pm. The cost of care is $145 per day per child. You may choose 1-5 days a week based on need; chosen days need to stay consistent each week.
All parents are welcome to apply and priority will be given to parents who are considered essential workers and/or first responders, or their work provides support to the COVID-19 emergency. Enrollment will be given on a first come, first served basis for these families. Please click HERE for more detailed information on the emergency program.
In order to create the safest environment possible for LASER staff and students, we will follow strict guidelines. When registering for care, you are agreeing to the LASER guidelines and protocols. Below are some key guidelines. For a list of complete guidelines, please click HERE.
All staff and children will have regular health checks (bodily temperature and respiratory symptom screening) upon arrival and before leaving the site. Checks will be given during the program if children/staff are experiencing fever or any symptoms related to COVID-19. This information will be documented on a daily basis.
If staff or children are running a fever of 100° F [37.8° C] or greater, have a cough, and/or difficulty breathing, or other COVID-10 symptoms, they will be sent home and told to contact their healthcare provider. They cannot return to site for at least 7 days after symptom onset AND 3 days (72 hours) being free of symptoms (without the use of fever-reducing or other symptom-altering medicines, e.g. cough suppressants).
Social distancing requirements (described as keeping at least 6 feet away from others), will be implemented at all times and during all activities, meetings, etc. The foreseeable exception is when staff are conducting the thermometer check. If there is an emergency situation where a staff needs to be in a close proximity with a student, e.g. students running away, students bleeding, etc., the Site Director can make an exemption to this rule for the safety of the students.
Parents are not allowed in the rooms for drop off and pick up. They need to stay outside of the building and notify staff of their arrival by ringing the bell or knocking on the door. The drop off/pick up sheet will be signed by a LASER Counselor. Our plan for curbside drop off and pick up limits direct contact between parents and staff members and adhere to social distancing recommendation.
No visitors are allowed in the rooms during LASER operation times.
In the event there is a confirmed COVID-19 case among staff or children, LASER will contact the CDC or state and local health department immediately. LASER will inform employees and parents about the confirmed case, without disclosing the name of the infected and without disclosing confidential medical information of the infected. All people who closely interacted with the infected will be asked to contact their healthcare provider, stay home for 14 days, complete a COVID-19 test, if possible. Based on the situation, LASER might consider closing temporarily. LASER will wait as long as practical (preferably up to 24 hours) before beginning cleaning and disinfecting areas used by the person infected with COVID-19. This will help reduce the potential for exposure to respiratory droplets.

Register for LASER's Emergency Program


---