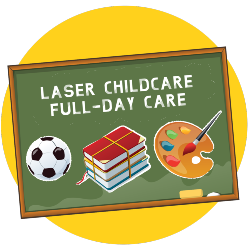 Full-Day Care Program
---
---
To support the need for parents who lack work flexibility, LASER Childcare will open as a full-day program at our Bryant and Laurelhurst locations, starting Wednesday, September 2. Hours will run from 8 am to 5 pm; the cost is $80 per day, per child. Due to the uncertainty and constant changes in requirements during the COVID-19 pandemic, the cost of care is subject to change; enrolled parents will be given adequate notice of any rate changes.
On the registration form, you may choose 1-5 days a week; chosen days need to stay consistent each week. Cancellations and drops must be received at least 4 weeks in advance in order to not be charged for the care.
All children ages 5 -12 years old are eligible to register; it is not necessary that they previously attended LASER, or Bryant/Laurelhurst Elementary schools. We will incorporate the remote learning into the daily schedules. Children should bring their iPad or labtops will them to participate in their remote classes during the day.
Please click HERE for more detailed information on the Fall Quarter Full-Day Childcare Program and HERE for a daily checklist of what to bring. Children are put in rooms by grade; please click below for the daily schedule for K-3rd grades and 4th & 5th grades.
In order to create the safest environment possible for LASER staff and students, we will follow strict guidelines. When registering for care, you are agreeing to the LASER guidelines and protocols.
Below are key guidelines. For a list of complete guidelines, please click HERE.
All staff and children will have regular health checks (bodily temperature and respiratory symptom screening) upon arrival and before leaving the site. Checks will be given during the program if children/staff are experiencing fever or any symptoms related to COVID-19. This information will be documented on a daily basis.
All LASER staff and children will wear a mask while in indoor and outdoor spaces.

If staff or children are running a fever of 100° F [37.8° C] or greater, have a cough, and/or
difficulty breathing, or other COVID-19 symptoms, they will be sent home and told to contact
their healthcare provider. They can return to the program when:
• At least 10 days after symptom onset AND 1 day (24 hours) being free of symptoms
(without the use of fever-reducing or other symptom-altering medicines, e.g.
cough suppressants).
• OR, It has been at least 24 hours since recovery AND a health care professional
provides a note that the student does not have suspected or confirmed COVID19 and may return to care.
If a staff or child who has only a single symptom (from list below) that lasts less than 24 hours, a person may return to child care the next day without having to be tested* for COVID-19 if they:

1. have no known exposure to a confirmed COVID-19 case AND
2. have only one of the following symptoms that begins and resolves within a 24-hour period:
• Headache
• Muscle pain or body aches
• Sore throat
• Fatigue
• Congestion or runny nose
• Nausea or vomiting (2 or more in 24 hours)
• Diarrhea (2 or more loose stool in 24 hours)
Example: A child is sent home from child care at 10:00 AM on Monday for a sore throat. Child has no other symptoms. Child wakes up on Tuesday with no sore throat or other symptoms. Child can return to child care that day.
Social distancing requirements (describes as keeping at least 6 feet away from others), will be implemented at all times and during all activities, meetings, etc. The foreseeable exception is when staff are conducting the thermometer check. If there is an emergency situation where a staff needs to be in close proximity with a student, e.g. students running away, students bleeding, etc., the Site Director can make an exemption to this rule for the safety of the students.
Parents are not allowed in rooms for drop off and pick up. They need to stay outside of the building and notify staff of their arrival by ringing the bell or knocking on the door. The drop off/pick up sheet will be signed by a LASER Counselor. Our plan for curbside drop-off and pick up limits direct contact between parents and staff members and adheres to social distancing recommendation.
No visitors are allowed in the rooms during LASER operation times.
In the event there is a confirmed COVID-19 case among staff or children, LASER will contact the CDC or state and local health department immediately. LASER will inform employees and parents about the confirmed case, without disclosing the name or confidential medical information of the infected person. All people who closely interacted with the infected person will be asked to contact their healthcare provider, stay home for 14 days, and complete a COVID-19 test, if possible. Based on the situation, LASER might consider closing temporarily. LASER will wait as long as practical (preferably up to 24 hours) before beginning cleaning and disinfecting areas used by the person infected with COVID-19. This will help reduce the potential for exposure to respiratory droplets.
Register for LASER's Full-Day Care Program


---