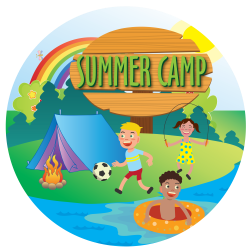 Summer Camp Update
---
---
We are pleased to announce that Seattle Public Schools has confirmed the spaces that we are able to use for LASER Summer Camps.

Using the Bryant and Laurelhurst Elementary locations, we are able to accommodate all children who are currently registered for camp. Children may be placed at either site based on space availability. We will do our best to assign families to their site of preference, prioritizing essential workers, followed by date of registration.

Please click HERE for more details about the LASER Summer Camp program. The cost will remain the same and the hours will change to 8 am to 5 pm. Due to current safety guidelines, we will no longer be taking camp participants on field trips but our staff has been working hard on an that will be engaging, fun and educational.

If you are currently registered for summer camp, please do NOT re-register.
Please email billing@laserchildcare.org for any additions, changes, or cancellations for summer camp. You will be emailed a confirmation of your weeks of camp and location by June 19.

For this summer only, we have amended our cancellation policy to a two-week notice due to COVID-19 (as opposed to four-week notice). A $25 cancellation fee will still apply for any cancelled weeks. We will waive the two-week notice for the summer camp weeks in June.

In order to create the safest environment possible for LASER staff and students, we will follow strict guidelines. By attending camp, you are agreeing to the LASER guidelines and protocols.
Below are some key guidelines. For a list of complete guidelines, please click HERE.

All staff and children will wear masks or cloth face coverings, except:
Those with a disability that prevents them from comfortably wearing or removing a face covering.
Those with certain respiratory conditions or trouble breathing.
Those advised by a medical, legal, or behavioral health professional that wearing
Those who are deaf or hard of hearing and use facial and mouth movements as part of communication.
Those advised by a medical, legal, or behavioral health professional that wearing a face covering may pose a risk to that person.
All staff and children will have regular health checks (bodily temperature and respiratory symptom screening) upon arrival and before leaving the site. Checks will be given during the program if children/staff are experiencing fever or any symptoms related to COVID-19. This information will be documented on a daily basis.
If staff or children are running a fever of 100° F [37.8° C] or greater, have a cough, and/or difficulty breathing, or other COVID-10 symptoms, they will be sent home and told to contact their healthcare provider. They cannot return to site for at least 7 days after symptom onset AND 3 days (72 hours) being free of symptoms (without the use of fever-reducing or other symptom-altering medicines, e.g. cough suppressants).
Social distancing requirements (described as keeping at least 6 feet away from others), will be implemented at all times and during all activities, meetings, etc. The foreseeable exception is when staff are conducting the thermometer check. If there is an emergency situation where a staff needs to be in a close proximity with a student, e.g. students running away, students bleeding, etc., the Site Director can make an exemption to this rule for the safety of the students.
Parents are not allowed in the rooms for drop off and pick up. They need to stay outside of the building and notify staff of their arrival by ringing the bell or knocking on the door. The drop off/pick up sheet will be signed by a LASER Counselor. Our plan for curbside drop off and pick up limits direct contact between parents and staff members and adhere to social distancing recommendation. In accordance with the Washington state mandate, we ask that parents wear masks or face coverings during pick up and drop off.
No visitors are allowed in the rooms during LASER operation times.
In the event there is a confirmed COVID-19 case among staff or children, LASER will contact the CDC or state and local health department immediately. LASER will inform employees and parents about the confirmed case, without disclosing the name of the infected and without disclosing confidential medical information of the infected. All people who closely interacted with the infected will be asked to contact their healthcare provider, stay home for 14 days, complete a COVID-19 test, if possible. Based on the situation, LASER might consider closing temporarily. LASER will wait as long as practical (preferably up to 24 hours) before beginning cleaning and disinfecting areas used by the person infected with COVID-19. This will help reduce the potential for exposure to respiratory droplets.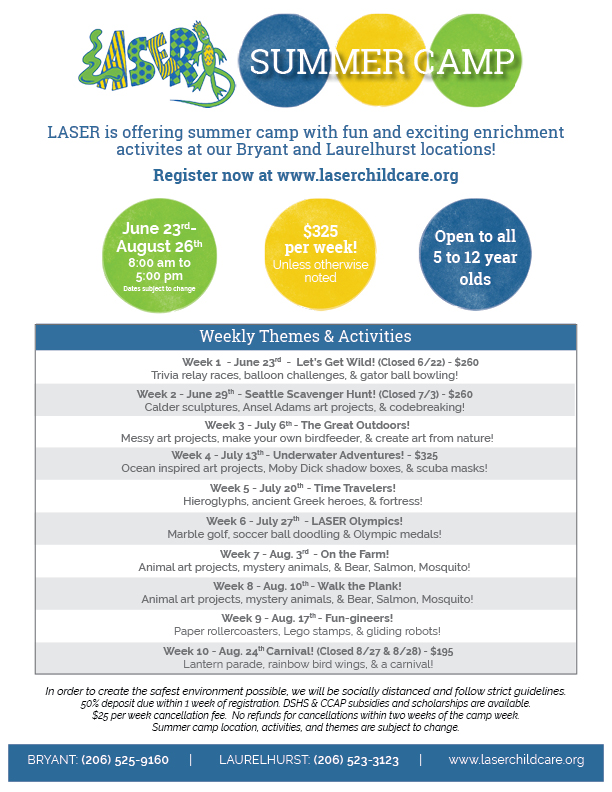 ---