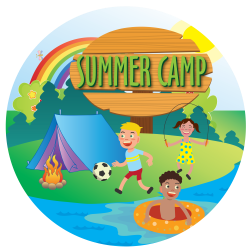 Summer Day Camp
---
---
LASER Summer Camp registration begins March 2nd for all families.

Please see below for more details on summer camp and LASER's updated summer camp policies.
Summer Camp will be located at Bryant Elementary School - all children 5 to 12 years old are welcome.
Summer Camp hours are from 7:30 am to 6:30 pm.
Two age groups: incoming K-2nd graders & 3rd-6th graders.
We offer daily field trips and exciting summer themes (see flyer below for weekly themes and corresponding dates).
Day-by-day calendar will be available on March 2nd.
Online Registration link will be available March 2nd at www.laserchildcare.org.
Start date of summer camp and LASER location may be subject to change.
Summer Camp Policies: please note our registration and cancellation policies
There is a "new student registration" fee for $25/week for up to a maximum of $100 for all new students. If your child already participates in our after-school program, their new student registration fee has already been paid and they will not be charged a registration fee for summer camp. Students who have paid a portion of this $100 fee, will continue to pay until they meet the $100 maximum.
After you register for camp, you will be invoiced for 50% of the total cost of the camp, for the total number of weeks you select. Payment for all weeks of camp you select is due within one week of registration.
Each week of camp has a $25 non-refundable registration fee. This fee is included in the cost of the week, but in the event of cancellation you will be responsible for the non-refundable $25/camp week.
Cancellation requests must be submitted 4 weeks prior to the start of the camp week. There will be no refund if cancellation happens within 4 weeks.
Registrations after the Thursday prior to the camp week will incur a $25 late registration fee.
We are looking forward to another great summer at LASER!
2020 Day-by-Day Field Trip Schedules
2020 Summer Flyer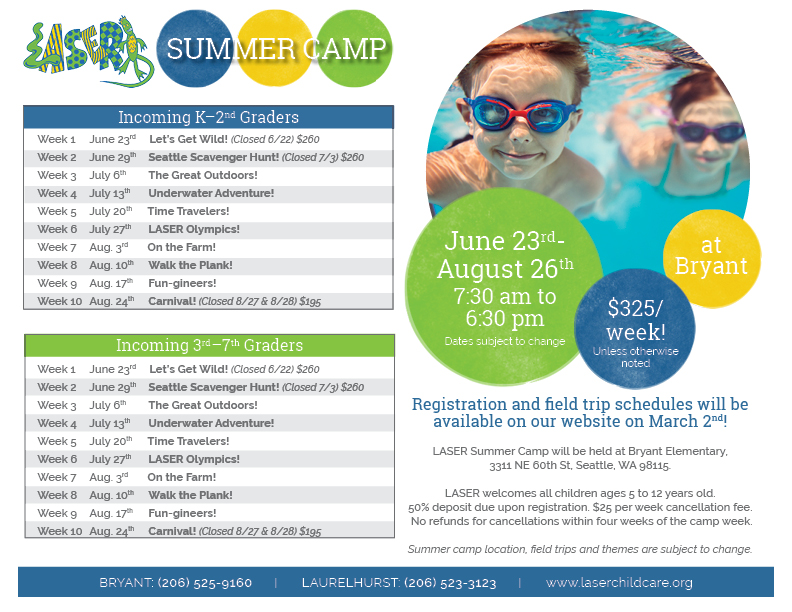 ---