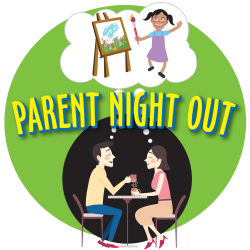 Parent Night Out Dates for the 23-24 School Year
---
---
LASER will offer Parent Night Outs on the following dates at LASER at Bryant from 6:30 pm to 10:30 pm:

Friday, September 22nd - Adventure is at LASER
Friday, October 20th - Costume Party
Friday, November 17th - Woodland Wonderland
Friday, December 1st - Holiday Party
Friday, January 19th - Jungle Jamboree
Friday, February 9th - Rock Star Jam
Friday, March 15th - March Magic
Friday, April 19th - Planet Earth
Friday, May 17th - Super Sports Soiree
Friday, June 14th - LASER Campout
Parent Night Out includes a movie, dinner, game, craft, and snack.

Children do not need to be registered in LASER in order to attend a Parent Night Out, but they must be between the ages of 5 to 12 years old. The cost is $40 for one child and $30 for each additional sibling.
Dates and themes may be subject to change. There must be a minimum of at least 10 children in order to hold Parent Night Out.

---